Sponsored
Have you heard about Fashion Camps? If you are interested in the fashion industry or want to improve, your style can benefit from attending fashion camps. It may include a course or a program explicitly designed to teach you about various aspects of fashion and style. These camps can range in length, structure, and content to meet the needs of participants of varying ages, from kids to teens to adults.
In addition, fashion industry campsites often provide participants with the chance to learn the trade from the industry. Also from professionals while also fostering their imagination and creativity. So, here are some of the exciting discoveries in the world of Fashion Camps.
Four Popular Types Of Fashion Camps
Unleash your imagination, and learn about the fashion industry. Fashion camps can be a great way to get real-world experience. Various institutions, including schools of design and fashion businesses, offer fashion camps for youth.
Before enrolling, it's best to do preliminary research to choose a base that fits your interests, ambitions, and skill level. In addition, inquiring about the qualifications, pricing, and availability is crucial. So, here are the best tips and benefits of participating in Fashion camps.
Fashion Camps For Fashion Designers
It encourages participants to explore their creativity while learning the fundamentals of the fashion industry. First, students studied and learned the fundamentals of the fashion industry. Then, they may create sketches, choose fabrics, draft patterns, sew, and finish a garment. You can find camps catering to women's, men's, children's, bridal, eco-fashion, or accessory creation.
Camps Focusing On Fashion Styling
It teaches participants how to create a look by coordinating clothing, accessories, and their unique style. Participants learn color theory, body types, current trends, and outfit construction. In addition, they might take part in practical activities like style exercises, photo shoots, and creating a fashion show.
Fashion Business Camps
You can find insights into the business side of the fashion industry at Fashion Business Camps. Students gain knowledge in fashion branding, marketing, merchandising, retailing, and entrepreneurship. They might also study the market, examine consumer habits, and create new items.
Modeling Camps
Training in runway modeling, posing, posture, grooming, and fashion etiquette are some skills you may learn at a modeling camp. In addition, the business side of the modeling industry, such as contract negotiating, portfolio building, and casting practices, may also be covered. These factors are all crucial in building and supporting your fashion journey.
The Benefits Of Fashion Camps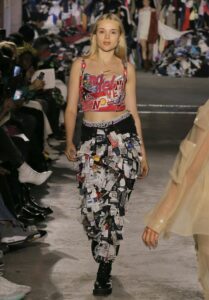 There are several advantages to attending a fashion camp. First, fashion camps are a great way to hone your craft, whether you're interested in sketching, pattern creation, sewing, textile design, or anything else. Participants can hone their abilities through interactive workshops, structured assignments, and personalized feedback from industry professionals.
Campers can learn about the latest fashion trends, market research, and business tactics from industry professionals. Insight into the industry's dynamics, difficulties, and possibilities can help participants make more well-informed design and commercial decisions. In addition, participating in a fashion camp is a great way to meet like-minded individuals. Make a connection and contacts with mentors and experts in the fashion industry. In the fashion sector, networking can open doors to potential partnerships, collaborations, and jobs.
Fashion camps may also unite individuals from various backgrounds, cultures, and nations. As a result, participants' perspectives and design methods may benefit from this broadening of horizons. Thus, participants can polish their "soft skills," essential in the fashion industry. It may include camp activities, interactions, and challenges.
Participants can build their portfolios by participating in hands-on initiatives at fashion camps. Aspiring fashion designers should prioritize portfolio development. It is because of the best way to demonstrate their abilities to potential companies or clients. Exposure to real-world experience is another great advantage of attending Fashion camps—finally, a rewarding feeling.
Recommended

1

recommendation
Published in apparel, Our Fashion Passion