Sponsored
The calmful winter season is about to come along with beautiful sweater outfits for all. Also, in winter sweater outfits look hot and beautiful. Although, they are also a good coverage from cold. They provide good hotness to the body. It's a good thing to have in winter. Generally, every girl likes to have a good piece of sweater dress in her wardrobe. Also, some of them are fancy, but some are embroidered and attractive in their ways.
Honestly, I love to have a huge collection of such outfits of many styles. Believe me, these all make your summer to colorful and classy. Let me share with you some samples of sweater outfits.
Red Color Cable Knit Sweater Outfit
It's a red color "Cable Knit Sweater Outfit". It is long below the knees and covered the neck. Additionally, it has long sleeves and this whole outfit is providing full coverage to the body. The black long boots are providing good warmth and combination.
Olive Color Cowl Neck Cable Knit Sweater Outfit
It's a more attractive olive color sweater outfit. This also has pockets above the knees. Moreover, it is below the knees covering the full body. The beautiful cowl neck gives more protection from harsh winter. we can use tight pants and leggings.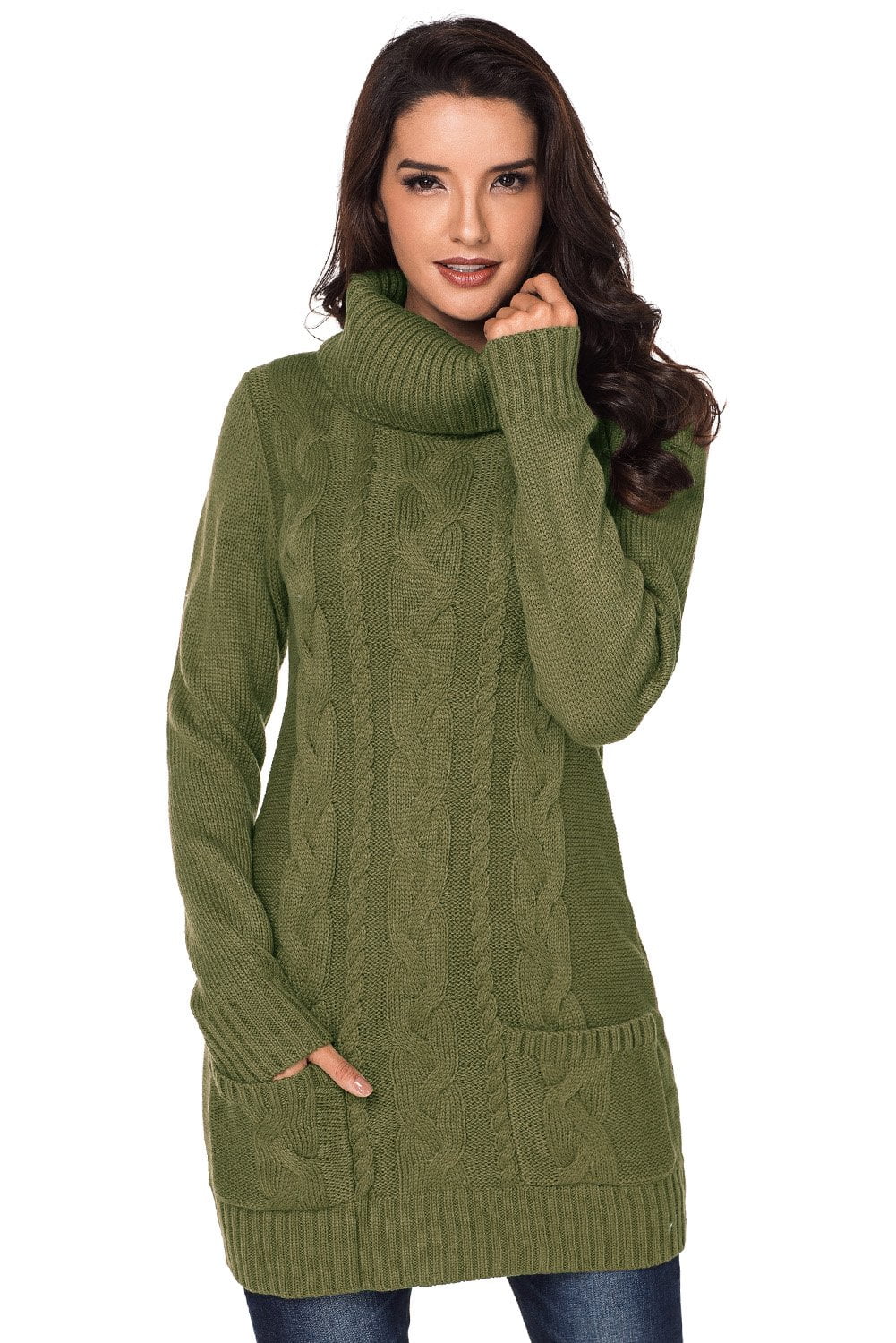 Black Color Cable Knit Sweater Outfit
Have you experienced the cable knit sweater outfit in black color? Trust me, it's the most captivating thing you have ever seen. However, it is more classy due to being black also it will give you more warmth. Mostly, long boots are used with them you also need to try them.
Cozy White Sweater Outfit
A white sweater outfit is also a worthy one. Of being most pure color white is also suitable and shiny. Also, use white color cozy sweater dress on a sunny day in winter. It will brighten you up. Here is a short-length white color sweater shirt with pants, but it has long sleeves. It is the most wearable thing on sunny winter days. Consequently, it is an appreciable thing.
Oversized Cozy Sweater Outfit
This is a cream color beautiful sweater outfit. It is a very baggy and easy dizzy outfit with oversized arms. It is short-length above the knees with black tight pants. Whatever the pants are this is a fit combination with that. However, it is a street-style outfit everyone should try.
By Rabia Syeda
Photos by Google
Recommended

1

recommendation
Published in apparel, Our Fashion Passion, Petite, Plus Size, street style