Sponsored
Before discussing beach outfits for men, let's look at the beach's environment. The Beach environment especially in summer has so cool. Going to the beach is fun. People prefer to go to the beach in light colors and lightweight clothes.
Well, the short and colorful men's outfits on the beach are mostly so unique if we talk about those. However, I have to go through many different dresses and perfect outfits for the beach including accessories.
Opinionativily everyone should try this trust me you will look so cool and decent. I have 5 to 6 different outfits for men making them have unique beach looks. So I have discussed here the most awesome combination of peach outfits every man should try
Outfit #1
Apparently,  it is a cool outfit.  It has light colors. The shirt has white in color and the shots are black which are printed.  moreover, he has worn black sandals on his feet.  it appears that he has a complete look for a beach trip.  look at the goggles and a bag he has hanged.
Well, this look is a complete picture of a perfect peach outfit. It could be a good beach fashion outfit idea.
Outfit #2
To me, it is a very different outfit. This guy has worn a vest of two colors orange and white.  he has worn white shorts.  Furthermore, He has black goggles and black and orange shoes carrying in his hands. Noticeable thing is that the shoes and shirt have a touch of orange color.
Overall we can say this outfit has a very different look. I must say It could be a decent beach fashion outfit idea.
Outfit #3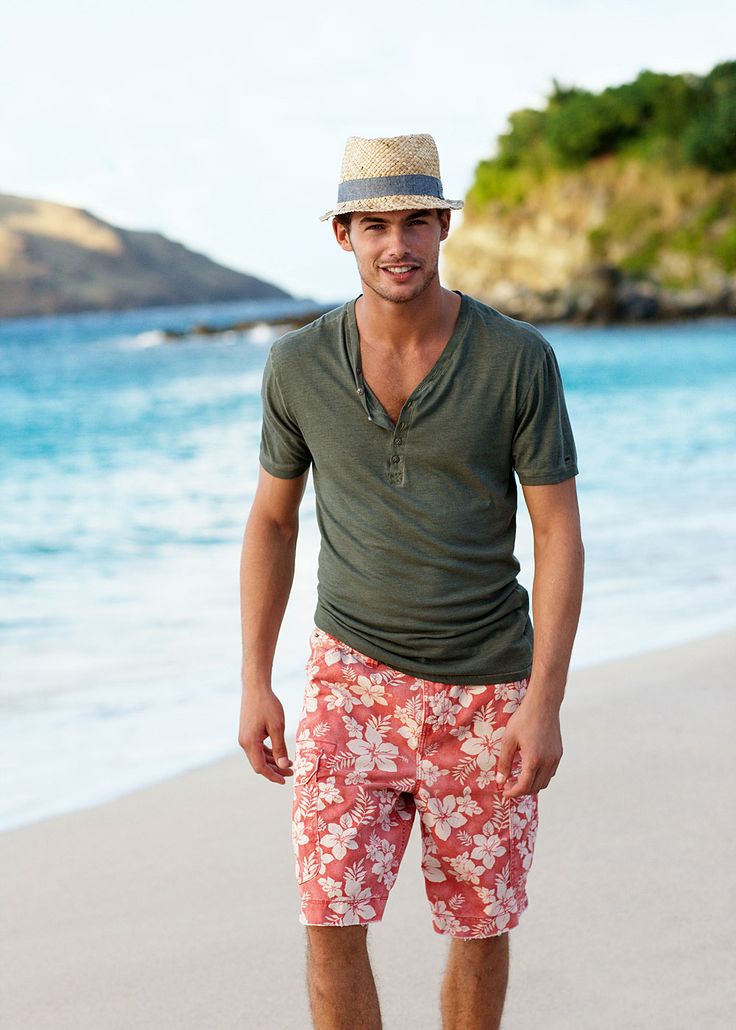 It should be noted, It is the coolest outfit. Above all the color combination is excellent. As displayed has a combination of Pink shorts with a green shirt.  Moreover, the pink shots have White printed flowers. In this outfit a white hat.  Subsequently, the combination is subtitled. It could be a stunning beach fashion outfit idea.
Outfit #4
Additionally, there is also a cool outfit.  actually, this is presenting a full white theme of the outfit. In addition, this is also cool to a great extent. Now here is a contrast from other outfits it has a printed shirt. Although, the shirt and shorts have white in color with a cream color hat. Which is presenting a purified white look of the beach.
Well, it is an adaptable outfit. Subsequently, it could be an attractive beach fashion outfit idea.
Outfit #5
Honestly, if you talk about modeling on the beach this outfit idea is the best. Although, the black color absorbs more heat and hasn't suitable for the beach. But here are some examples of modeling on the beachside. This is a very stunning look off beach outfit.
But it can be applied in the season before summer or after summer. Well if we talk about the outfit, it has a black shirt with a black and white combination of shorts. Moreover, he has worn black goggles. Appearingly, he has bare feet, as he is walking in the water.
Overall the ultimate look of this outfit is awesome. I guess every man should have this look but not in the months of summer.
By Rabia Syeda
Photos by Google
Recommended

1

recommendation
Published in apparel, Our Fashion Passion, Petite, Plus Size, Shoes, street style